The Huckster Tales is an episodic series following the continuing adventures of Orville and Jimmy, a pair of hucksters determined to find supernatural trouble in the Weird West, whether they're looking for it or not. The stories mix fantasy, horror, and comedy in an Old West setting. The titles below are in chronological order within the story universe. Enjoy.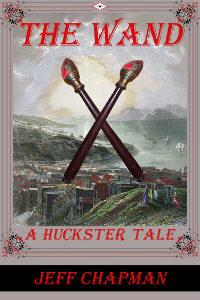 The Wand
Weird Western/Short Story
Orville and Jimmy find more trouble than they bargained for when they attempt to profit from a mysterious wand and tangle with a ruthless witch.
Store Links: FREE with Newsletter Subscription. See the Home Tab for details.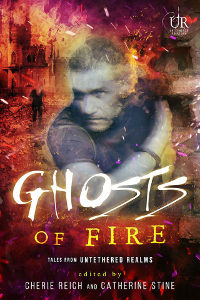 Ghosts of Fire: Elements of Untethered Realms Book 3
Fantasy/Weird Western/Short Stories
From USA Today, Amazon bestselling, and popular science fiction and fantasy authors comes Ghosts of Fire, a supernatural anthology of ten thrilling tales. Meet paranormal detectives, imprisoned dragons, dark demons, cursed jewels, and handsome prophets.
Contains my story "The Flaming Emerald." When Orville finds an emerald in a pawnshop, Jimmy suspects there's trouble ahead, which is precisely what they encounter, trouble of a very weird and supernatural kind. Will they rid themselves of the cursed jewel before the flames scorch them?
GooglePlay Kobo iTunes Smashwords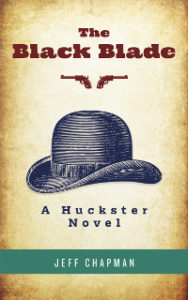 The Black Blade: A Huckster Novel
Weird Western/Novel
An enchanted blade. An evil old man. An ancient spirit behind a mask. The Weird West just gets weirder.
Orville and Jimmy are a pair of hucksters, struggling to scrape together enough coin for a square meal. While Orville angles for the big score, Jimmy hopes to make an honest buck for a day's work. When an old man calling himself Marzby asks for help with a supernatural pest, Orville smells opportunity. Jimmy smells danger.
In two shakes of a lamb's tail, Marzby imprisons Orville and only Jimmy can save him from a gruesome death. The price for Orville's life? Jimmy must retrieve an enchanted knife from inside Skull Hill and put it in Marzby's hands in three days time. With the blade in reach, Jimmy runs head on into more trouble: a shapeshifting opossum, a larger than average coyote and an ancient spirit determined to keep the blade where it is. Maybe the evil Marzby shouldn't have the blade, but without it, how is Jimmy going to rescue Orville?
The Black Blade is a weird western novel in Jeff Chapman's Huckster Tales series, mixing horror, fantasy, and comedy in an Old West setting. Climb up in the wagon and follow Orville and Jimmy as they once again plunge over their heads into supernatural trouble.
Amazon 

Amazon

Amazon

Amazon

Amazon


JeffChapmanBooks.com is a participant in the Amazon Services LLC Associates Program, an affiliate advertising program designed to provide a means for sites to earn advertising fees by advertising and linking to Amazon.com.